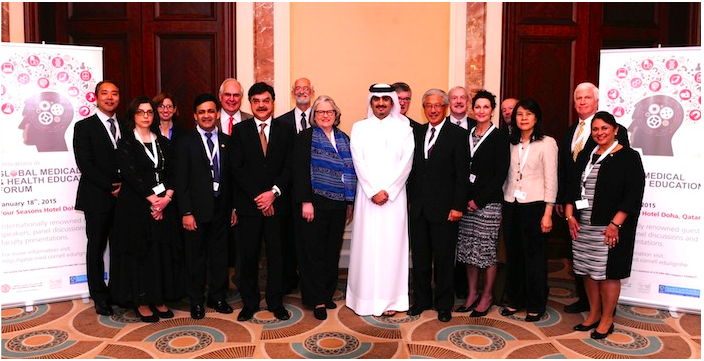 On January 18, 2015, we at Strategy Implemented had the pleasure of joining medical and educational experts who convened in Doha for the Innovations in Global Medical and Health Education (IGMHE) Forum, hosted by Weill Cornell Medical College in Qatar (WCMC-Q).
Both IGMHE speakers and the audience were invited to discuss the global need to address the shortage of well trained healthcare professionals in designated regions of the world, and the opportunities and challenges presented by a wide range of both global and local innovations in medical education, assessment, licensing, and program accreditation.
Members of the academic healthcare community from Qatar, Oman, UAE, Lebanon, China, Canada and the US gathered for a one-day highly interactive meeting. The debates covered the growing use of competency based medical education, the impact of accredited medical schools and programs, and a broad range of specific interventions used to improve education and training outcomes.  I encourage those with an interest in advancing and potentially transforming medical education locally or globally, to take a look at the Forum's presentations below:
Welcome and Opening Remarks | Javaid I. Sheikh, MD
Capacity Building for a Global Health Workforce | Victor Dzau, MD
Accreditation of International Medical Schools | John Norcini, PhD
Transformation of the Education of Health Professionals in China: Practice of PKU-HSC | Yang Ke, MD, PhD
Leveraging Competency-based Medical Education to Maximize Individual Outcomes| Eric Holmboe, MD
Do Doctors Know Best? And Who Will Take Care of the World? | Rima Afifi, PhD
Assessment Needs for Individualized Competency-based Medical Education | Donald Melnick, MD
Do Doctors Know Best? And Who Will Take Care of the World? | Kelley Skeff, MD, PhD
Is breaking bad news all bad news? | Mohamud A. Verjee, MD
Inter-Professional Education: Diabetes Themed Activities | Stella C. Major, MBBS
An OSCE Curriculum for Assessment of Resident Communication Skills | Dora J. Stadler, MD
Using Webinar Discussions to Increase Connections Between International Hospital and Medical School-Based Faculty | Amal Khidir, MBBS
Presentations above can be found on the WCMC-Q website.
The Forum was coordinated by WCMC-Q's Division of Continuing Professional Development and sponsored by the Innovations in Global Medical and Health Education Journal, an open-access web-based publication issued by Bloomsbury with the support of Qatar Foundation.
---
Amanda J. Pullen, PhD
Sr. Vice President
Strategy Implemented, Inc.